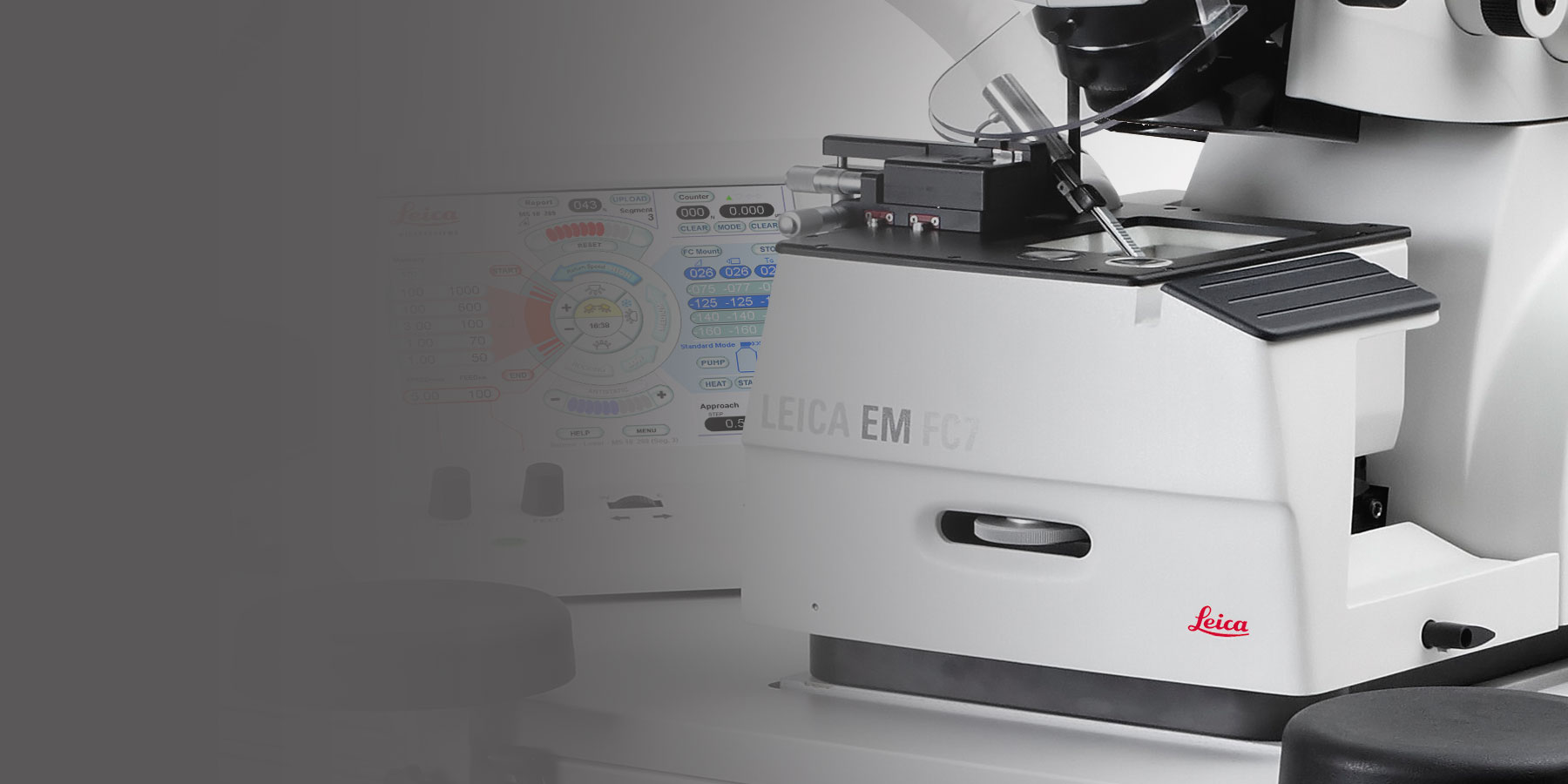 Low temperature sectioning system for EM UC7 or UC6 ultramicrotome
为徕卡EM UC7和EM UC6 而设计的冷冻超薄切片附件
EM FC7
仅需数分钟,就可以将您的Leica EM FC7冷冻超薄切片附件安装到Leica EM UC6或Leica EM UC7超薄切片机上,将其转换成一台冷冻超薄切片机。冷冻切片温度控制范围-15℃ - -185℃,适用于透射电子显微镜、扫描电子显微镜、原子力显微镜和光学显微镜的样品切片制备。
仅需4步,即可获得优质的冷冻超薄切片……请单击"Gallery"
For research use only
Benefits when working with the EM FC7 cryochamber
Full control integration with the EM UC7 touchscreen control panel
Highly stable temperature regulation and low LN2 (liquid nitrogen) consumption
Three different cryo-modes available for use: 1) standard, 2) high gas flow, and 3) wet cryo-sectioning
Superior viewing angles of the frozen sample material and a patented LED illumination system
Electrostatic charge and discharge functions for section adherence with the EM CRION ionizer (optional)
Attachable micromanipulator for precise positioning of TEM grids for easy section collection (optional)
Direct transfer of sections to TEM or SEM in cryo-conditions via the EM VCT500 (optional)
Ease of use and outstanding performance
Produce ultra-thin cryo-sections with the tried-and-true quality and precision that you have come to expect from the EM UC7 ultramicrotome. Both vitrified and Tokuyasu frozen samples can easily be processed in the EM FC7 cryochamber via the EM UC7 touch screen control panel. This provides fast access to all parameters needed to produce ultrathin or semi-thin cryo-sections of the highest quality.
Some key control parameters include: section feed, cutting speed, user-defined temperature profiles, lighting options, cryo auto-trim function, and constant monitoring of the LN2 level inside the dewer.
LED illumination
Patented multiple lighting angles optimally illuminate your cryo-samples during the sectioning process to provide excellent visibility. Therefore, section manipulation and retrieval are performed easily and the risk of section loss is greatly reduced.
This capability, coupled with the eucentric movement of the EM UC7 stereo-microscope carrier, allows for the utmost accuracy during the approach of both glass and diamond knives to the sample block.
User modes for specific requirements
Several easily accessible operation modes are provided to cover the most demanding user requirements.
The standard user mode allows easy access to all sectioning parameters needed for the highest quality cryo-applications while conserving LN2 consumption for a highly economical workflow.
The high gas-flow mode increases the flow of N2 gas into the chamber to prevent ice buildup at extremely low temperatures, i.e., below –140°C, if required.
The wet sectioning mode allows the use of cryoprotectants, such as DMSO, for which the knife edge and specimen are set to a temperature difference of 130°C.
Anti-static, Micromanipulator & EM VCT500
Mounting of cryo-sections onto TEM grids is made easy with the foot-switch controlled EM CRION electrostatic discharge module. You can ensure precise mounting and easy section retrieval of your valuable sample material reliably every time. In combination with the Diatom produced micromanipulator even ribbons of cryo-sectioned material can be collected with confidence. Simple mounting and operation of the micromanipulator allows you to take full control of the section collection process without any risk of errors.